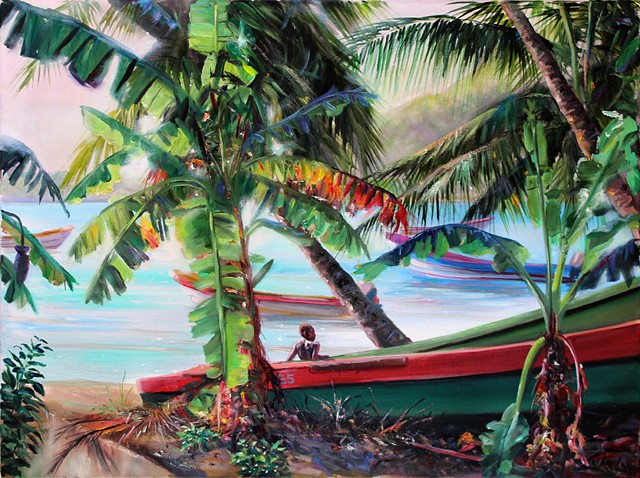 Jonathan Guy-Gladding (JAG) Artist Bio
One of the best things that ever happened to me was being sent St. Lucia in 1999. I had been living in New York City working as a computer artist for Sesame Street while trying to squeeze in my own art on evenings and weekends. I think even if I had more time, what I was lacking most was inspiration.
Feeling the need to expand my horizons beyond New York, make a contribution, and take on a new challenge, I applied to be a volunteer in the Peace Corps and had the great fortune to be sent to the island of St. Lucia in July of 1999. Serving as a woodwork instructor in the beautiful southern coastal village of Laborie, I found there an unending supply of rich subject matter in the faces and postures of the uniformed schoolchildren, the people going about their daily lives, and the traditional cultural aspects that make St. Lucia such a wonderful and distinctive place. The pride in heritage and Kwéyòl culture combined with a sense of community and responsibility toward one another deeply impressed me and gave direction to my work. So with all these elements set in front of a landscape of vibrant greens, stunning blues, and warm browns, and illuminated by a quality of light I had never experienced before, I had found in St. Lucia what artists have always traveled far and near to find - true inspiration.
Although I had been painting for years in a cubist style, I felt that realism was best suited to communicate in paint the feelings and ideas that I wanted to share. It is my desire to tell a story in details, whether it's about the warmth and spirit of the people of the Caribbean or something as simple as the way the reflected light colors the edge of a child's face. While most inspired by what I see around me every day, I also find inspiration in the work of old masters like William-Adolphe Bouguereau, Jan Vermeer, Anders Zorn, and John Singer Sargent as well as illustrator Norman Rockwell and contemporary realist painters Like Richard Schmid and Mian Situ.
What I thought would be a two-year interruption in my life has now turned into twenty and counting . And rather than an interruption it's been pivotal for me both as a person and an artist.. It is my hope that I can convey the beauty of the Caribbean and its people and do my part in preserving what is so special about this part of the world and sharing that with others.